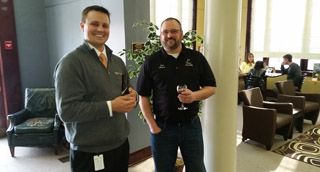 The next BAH will be Thursday, January 11th from 5-7 pm. The January event will be Sponsored and Hosted by: Andres O'Neil & Lowe The jackpot will be for $500  Be sure to bring your business cards to share with others. Hope to see you...
Chamber Buzz
Hear what all the buzz is about Bryan and be sure to check out all articles!
Upcoming Events
January 11th
Business After Hours
Andres O'Neil & Lowe
January 25th
Annual Chamber Banquet
YMCA Dinner @ 5:30pm
Tell Em' you saw it in the BUZZ…
The Bryan Area Foundation is seeking nominations for the Good Citizen of the Year Award. The individual selected will be recognized during the Foundation's banquet in May. Deadline for nominations is February 1, 2018.
The Good Citizen of the Year has been selected annually since 1980. The award is endowed by the Hawk family in memory of their parents, Howard C. and Mary Allene Hawk.
The Hawk family established the following criteria for the Good Citizen selection.
Bryan resident for at least 20 years.
Been active in unpaid positions with organizations serving Bryan.
Held a leadership position on an area non-profit board.
Associated with at least one outstanding accomplishment in the community.
Nomination forms may be picked up at the Bryan Area Foundation office at 110 S. Walnut St. or forms may be downloaded from the foundation website at www.bryanareafoundation.org.
Dr. John Moats was  the 2017 Good Citizen Award recipient.
| CONTACT
Bryan Area Chamber of Commerce
138 South Lynn Street
Bryan, Ohio 43506
419-636-2247
Bryan Chamber of Commerce